Fly Local
Flying local is simple, convenient and can save time and money! A briefer commute, less traffic, free parking and significantly shorter lines at security are just a few reasons why you should consider using Central Wyoming Regional Airport (formerly Riverton Regional) instead of airports in larger cities. When you fly local, you also won't have to worry about the possibility of traveling several hours in inclement weather to catch a flight.
Flying local, in addition to being more convenient for travelers, can impact the area's growth and economy. Also, the more local air service is utilized, the greater the likelihood that the service will expand with the addition of new routes from Central Wyoming Regional Airport (RIW).
United Airlines fares from Central Wyoming Regional Airport (RIW) to destinations beyond Denver are comparable to fares from other Wyoming airports, making it even more convenient and affordable to fly local!
Trip Comparison
Although people living in rural Wyoming often drive to Salt Lake City or Denver because of lower airfares, it may not be the most economical or feasible choice when all the factors are considered. The expenses of utilizing airports in the larger cities can add up quickly when you calculate mileage cost, parking fees, and the value of your time.
The charts below compare the cost of using CWRA to driving to Salt Lake City, Denver or Casper.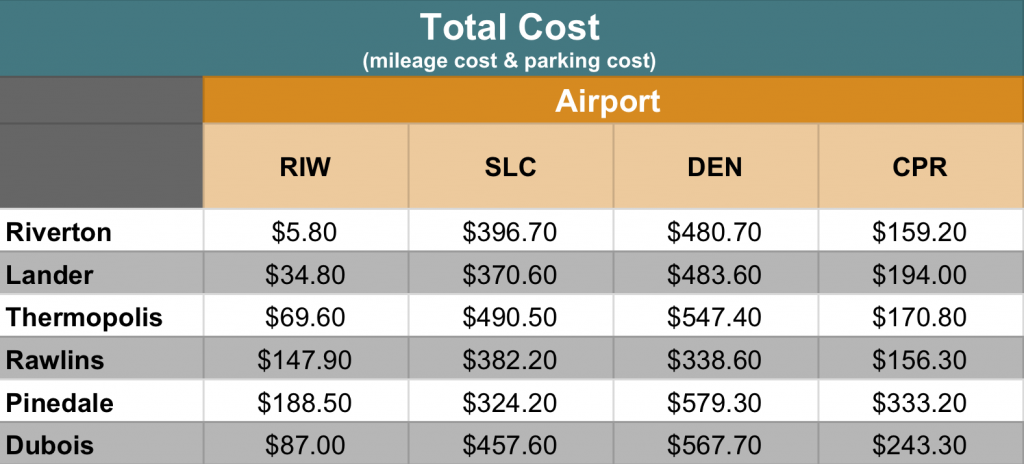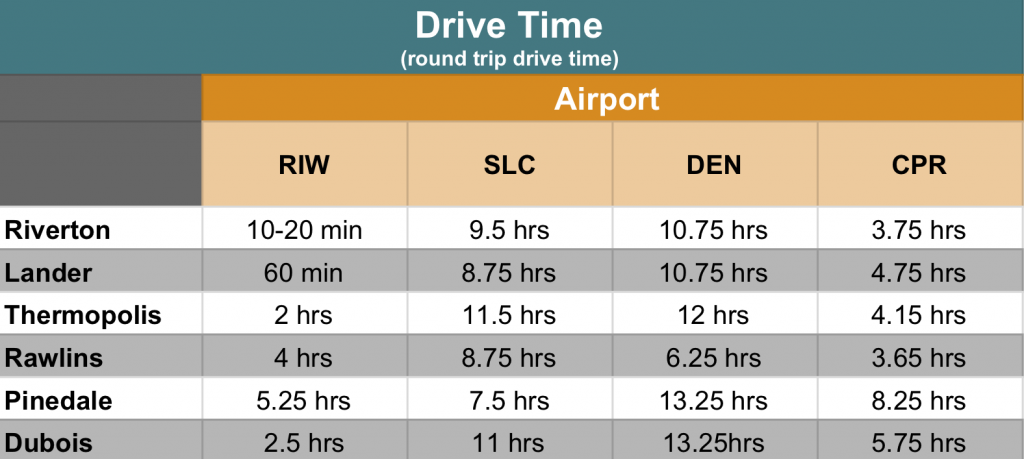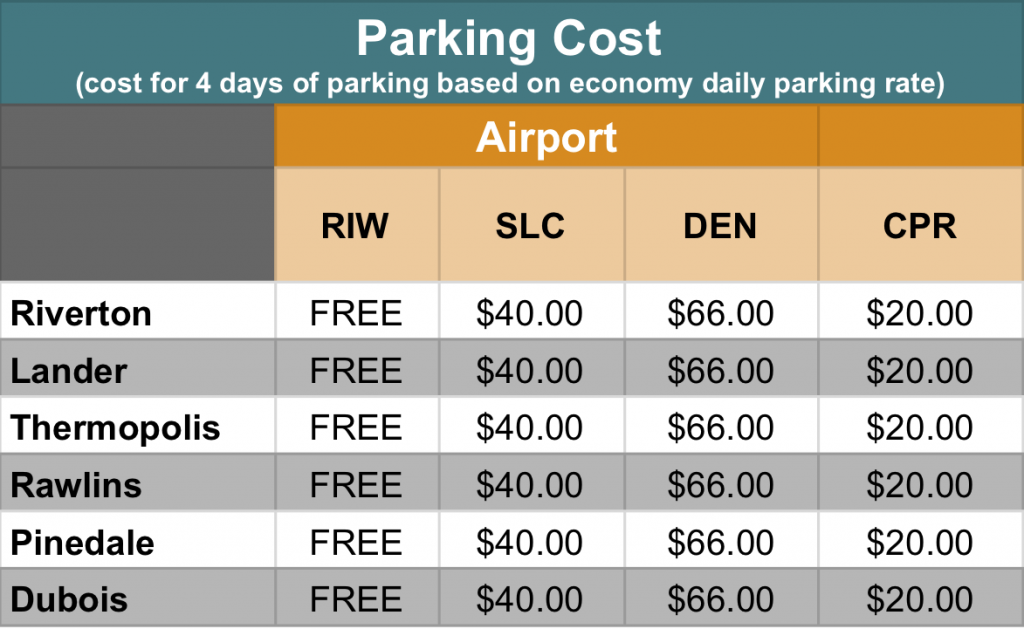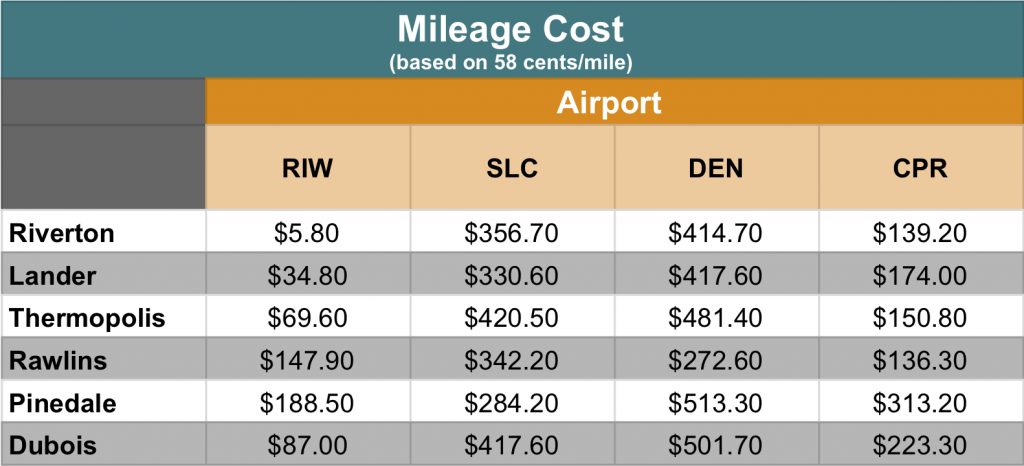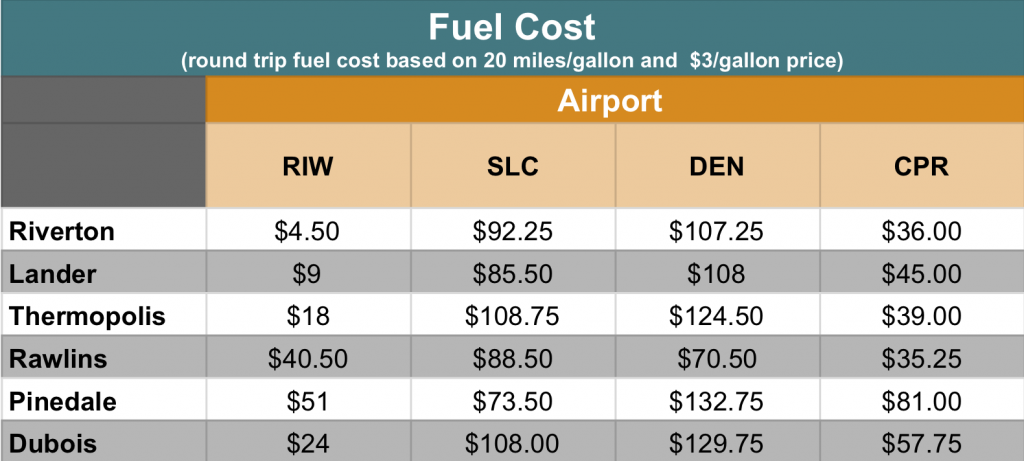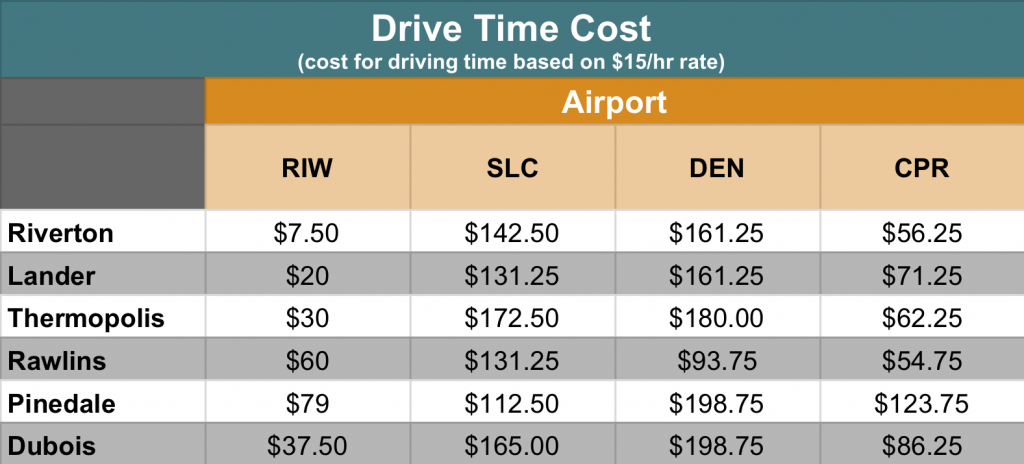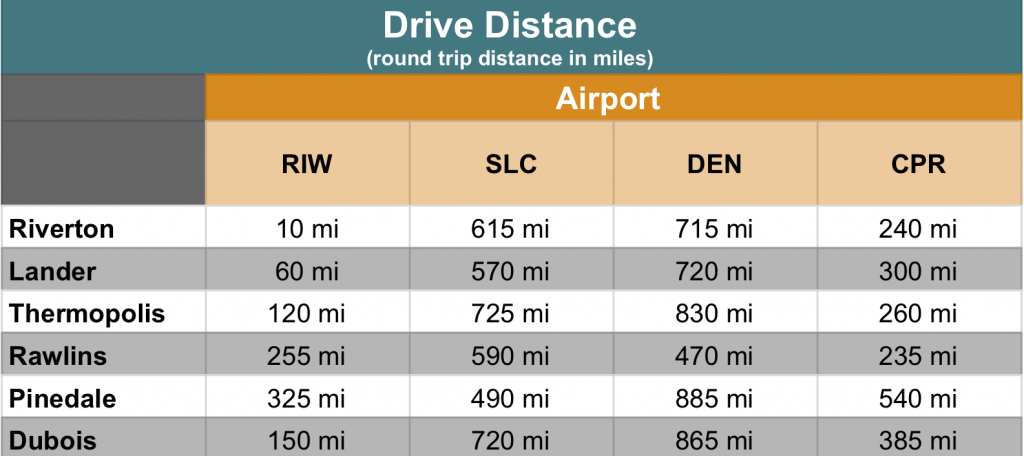 Traveler Testimonials
Many area residents have realized the advantages of flying out of Central Wyoming Regional Airport (RIW) and understand how utilizing local air service can benefit the area's economic growth and development.
Here are just a few quotes from travelers about why they choose to fly RIW!
"We are taking our annual family vacation in February, and usually we drive to Denver and fly out of there. I was pleasantly surprised to find seats that were over $100 less per seat flying out of Riverton versus driving to Denver to fly out.
This will not only save me money on the tickets but the cost of driving to Denver, a hotel room for two nights and the parking fees! If these prices stay below what it costs to fly out of Denver, it just makes sense to FLYRiverton!"
-Sarah Edlund, Lander resident
---
"Maven has moved most of our company flights to Fremont County. It saves us a lot of time, which is so important to our small business. It's also important to me that my staff is safer because they spend less time on the road, especially in the winter."
"A lot of people living in Lander travel for work as independent contractors or remote employees. The air service that we now have makes their work possible here. That's a really big growth opportunity."
-Mike Lilygren, Lander resident & Co-Owner + CFO at Maven Optics
---
"One of our largest customers is based in Denver, and I have been able to fly out of Riverton in the morning, have a meeting with this customer in the morning, add another meeting with a potential customer in the afternoon, fly back to Riverton that evening, and be with my family that night. In business, time is money and this fast, reliable, convenient air service option saves our company both."
–Kevin Kershisnik, Riverton resident & CEO of Pertech Resources Inc.
---